Commercial Infrastructure & Maintenance in Richmond, VA
Jet-Vac (Vactor) Pipe Cleaning
Atlantic Heating & Cooling provides professional jet vac vacuuming and cleaning services in Richmond, VA for the removal of solids and semi-solids from lift stations, ejector pits, manholes, storm sewers, catch basins and all areas where sludge, heavy sediment and other types of wastewater can build up.
Grease Trap Cleaning
Atlantic Heating & Cooling offers expert maintenance and installation of grease traps for residential and commercial properties in Richmond, VA. Our team has extensive knowledge and training in all grease trap regulations, cleaning, pumping, and maintenance to keep your drains clear and flowing as they should.
Rolloff Dumpsters
We offer an array of containers and dumpsters. We can even fulfill unique job requirements, whether you have large volume needs or difficult site conditions. We also have a selection of smaller containers, which allow for the use of containers in very tight conditions, where a standard dumpster might not be viable.
Hydrovac (Hydro) Excavation
Hydro-excavation is a non-mechanical, non-destructive process that uses pressurized water and industrial strength vacuum to safely break up and excavate soil. This provides a safe, fast and precise alternative to conventional backhoes or other mechanical methods to meet your excavation needs.
No Dig Pipe Lining
Are you having trouble with your sewer line in Richmond, CA? Fix your damaged sewer line with industry-leading, trenchless pipe repair technology that uses little to no digging.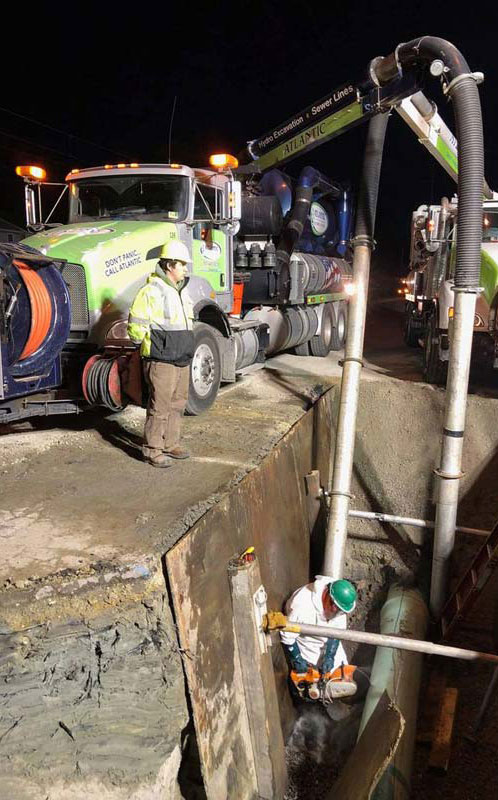 Grease Trap Cleaning • F.O.G. Certified
Work Zone • Lane Closures • VDOT Certified
Rolloff Dumpsters • Dewatering Boxes
Sewer Water Drains • Sump, Pit • Trench Cleanout • CCTV INspections
Hydrovac (HYDRO) Excavation
Residential • Commercial • CCTV Inspections • 24 HOUR EMERGENCY SERVICE